The Philadelphia Eagles Sensory Room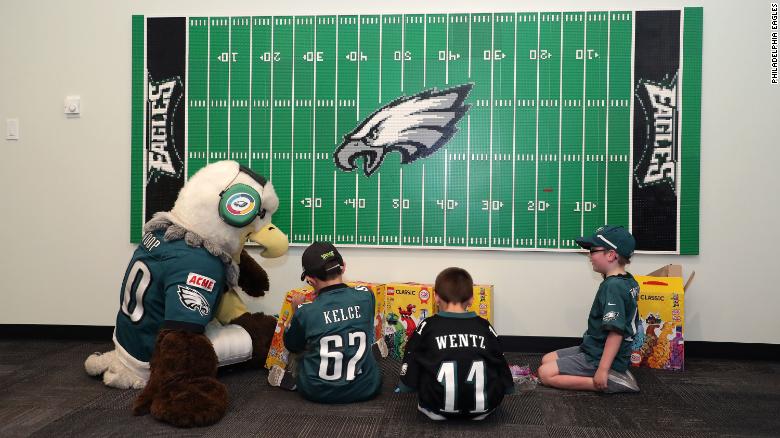 The Philadelphia Eagles are on the road to inclusion, starting with a sensory room for individuals with autism. This room is the first of its kind in the NFL franchise, intended for people who need to regroup from the excitement and loudness of the football game. A nonprofit organization based in Birmingham, Alabama assisted in getting the sensory room up to certification standards along with the help of The Children's Hospital of Philadelphia who sponsored the room. 
KultureCity has added special items to the room to help cope with sensory outbursts. These items include: soft weighted bean bags, toys mounted on the walls that help with spatial recognition, monotone walls, soft carpet, and various tubs of sensory toys. The sensory room isn't the only new inclusive factor the Eagles have added to their stadium, there are now service members up and down the isles that hand out "sensory bags" to individuals that need to revive from the commotion. Swoop, the Eagles mascot, has even taken the time to prepare for special situations with kids on the spectrum. Swoop is cautious around his sensory sensitive fans and approaches them slowly instead of his usual tangent of flapping the enlarged wings on his mascot costume. 
The nonprofit organization, KultureCity, has spoken out to explain the goal of the sensory room and what standards it intends to meet over the course of its first year in operation. The Eagles, NFL Franchise, and KultureCity intend to reduce the social isolation for people on the spectrum and make it so that their experience can be enjoyed to the full. KultureCity also released an app showing all of their sensory-inclusive locations so that parents can prepare and know what is available for their children. In an effort to make the experience the best as possible, the Eagles also took the leap into training every single one of their employees on sensory needs and how to handle children on the spectrum correctly. Autism advocacy is a major passion of the Eagles, donating millions to research and awareness efforts. 
This season, 9 out of 32 teams in the NFL are sensory certified and are looking to add sensory bags to their stadium. Besides the Eagles, the teams include: Buffalo Bills, Denver Broncos, NewYork Jets, New York Giants, Houston Texans, Indianapolis Colts, Minnesota Vikings, Jacksonville Jaguars, and the Pittsburgh Steelers. In 2016 KultureCity started working with different sports team to include sensory safe things in their arenas or courts. Because of this, 21 NBA teams are now sensory-inclusive certified along with 2 other teams who are on board. Ten NHL teams, nine MLB teams, and three major soccer teams are also sensory-inclusive certified thanks to KultureCity's efforts in converting the sports community.