Couple's Cat dazzles at Wedding as Groomsman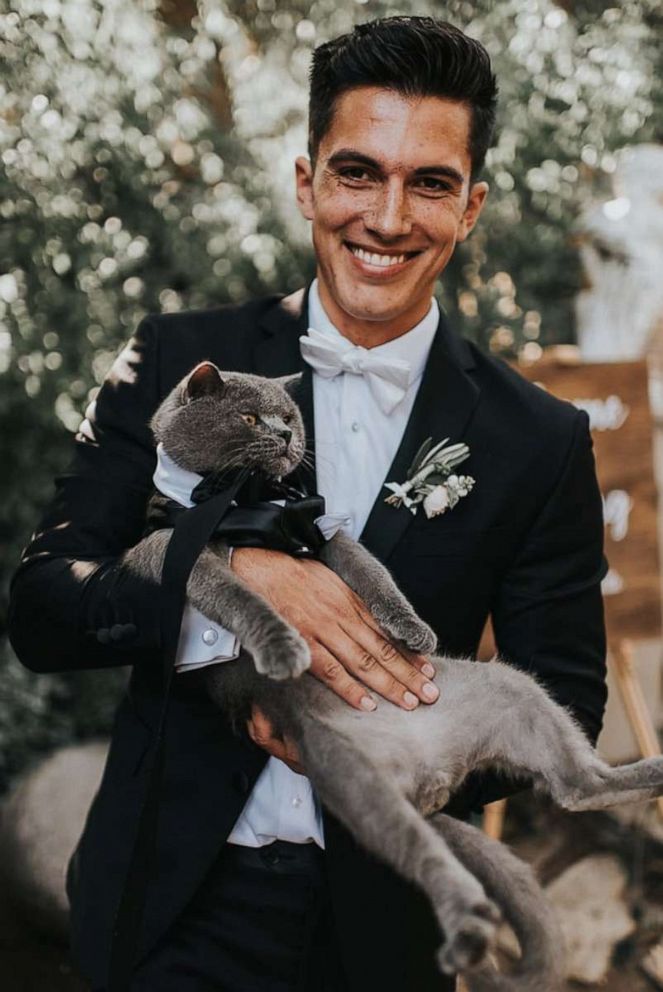 For many engaged couples, their wedding day is reserved to be dedicated to themselves and the bond of their love forever. However, for Michelle and Aaron Benitez, their charming house cat Prince Michael was in the spotlight on their day of matrimony. 
When Aaron and Michelle first saw Micheal, it was five years prior and the couple quickly fell in love with the feline and adopted him. Ever since Micheal has been a major part of both the couples relationship and lives. Even as a kitten he would go everywhere with the pair- to the park, ride the subway, and even the beach. The inclusion of Prince Michael started on their very first Valentine's day together when they brought him along for the day, and it had been a tradition ever since. 
Due to this, it came as no surprise for the guests of their wedding to see Prince Micheal, dashing as ever, embellished in his own tuxedo as one of Aaron's groomsmen. For Aaron and Michelle, this oddity wasn't even really a decision. They had spent so much time together throughout the years that the couple felt it would be it to be strange without their smallest addition to the family at the biggest event of their lives. 
Prince Michael's presence even surprised the photographers of the big day, Jonnie and Garrett Burks, who have photographed many animals before, but none like this. Both photographers accepted and enjoyed Michael's invite. The duo both understood the gravity and importance of Micheal in the couple's lives, and were quoted as saying, "He is a huge part of the bride and groom's life, and their day wouldn't have been complete without him." 
As well as being the well-mannered feline that Benitez' guests know and love, Michael also knows how to have a good time. One guest was quoted as saying, "Prince Michael is calm and loyal — just the kind of man you want standing next to you on your biggest day of your life. He knows how to have fun, and he kept the party going on the dance floor." At one point during the ceremony a guest lifted Prince Michael into the air and proceeded to dance the night away, making Michael the perfect groomsmen and party animal.