Woman denied emotional support peacock on united flight 
Hang on for a minute...we're trying to find some more stories you might like.
United Airlines recently turned down a woman's emotional support peacock on a flight that was departing from Newark Liberty International Airport. Even though the woman claimed she had a second ticket for the peacock, they still denied its entry aboard the plane. I can only imagine why.
A United spokesperson told Fox News that the people wanting to board with the animal would be denied entry. They also said "This animal did not meet guidelines for a number of reasons, including its weight and size. We explained this to the customers on three separate occasions before they arrived at the airport." I'm not quite sure how they missed the, "you can't bring your peacock" part of the conversation with customer service. You can find many photos of this event on social media, Its been creating quite the conversation there too about whether the peacock should've been allowed on the plane.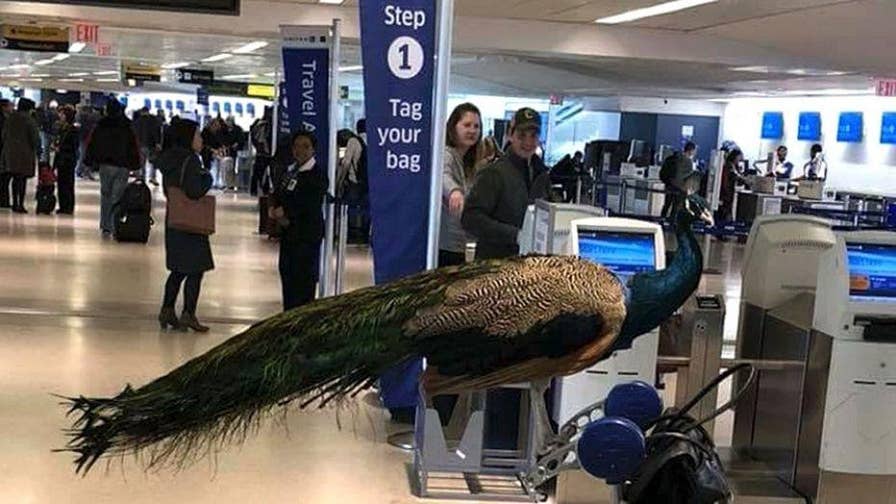 United released a policy that becomes effective March 1st requiring those with emotional support animals to submit a veterinarian health form and immunization records to Delta within 48-hours notice. They will also require a doctor's note, a signed veterinarian health form and proof of animal training.
I can only imagine what would, or could have happened if the peacock was not trained. Small plane, lots of people stuck in the air with nowhere to go, sharp claws and a beak…Yikes! Apparently, United is reviewing their current support animal policies and said, "In our effort to better balance protecting our employees and customers while accommodating passengers with disabilities, we are reviewing our existing policy and plan to share more soon."
I can only wonder what other animals United Airlines has encountered over the years. But for future reference, you might want to keep you big pets at home when traveling with United.